July 20, 2010 (Honolulu, Hawaii). Early detection, diagnosis, and care of individuals with newly diagnosed cognitive impairment and dementia can significantly reduce outpatient healthcare costs new research suggests.
---
Presented here at the Alzheimer's Association International Conference on Alzheimer's Disease 2010, results from the Dementia Demonstration Project (DDP) a multicenter pilot program conducted at 7 Veterans Affairs Medical Centers (VAMCs), show healthcare costs for 1 year before and after diagnosis decreased by $1741 in the year after diagnosis of cognitive impairment compared with the year before diagnosis.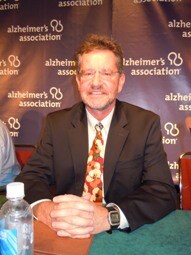 Dr. J. Riley McCarten
According to principal investigator, J. Riley McCarten, MD, dementia is common, costly, and underrecognized in the United States.
"We know dementia is common and affects over 5 million Americans age 65 and older. But in fact most people [with dementia] don't have a diagnosis. It's a looming crisis, and a big part of that crisis is due to a lack of recognition which leads to poor quality care and more costly care," said Dr. McCarten, medical director of the Geriatric Research, Education and Clinical Center at the Minneapolis VAMC.
Screening Well Accepted, But Most Declined Further Evaluation
For the DDP, advanced practice registered nurses were trained in screening, evalu
ating, and managing cognitive impairment. They were embedded into typical primary care clinics at 7 VA centers and functioned as dementia care coordinators to lead interdisciplinary teams in the identification evaluation and management of cognitive impairment.
A total of 8342 veterans 70 years and older who had no previous diagnosis of dementia were offered screening for cognitive impairment and 8063 (97%) accepted during
a routine primary care visit using the 2-minute, 5-point, Mini-Cog test, where a clock-drawing test is combined with a 3-word recall test. The cutoff for a positive screen result was 3 points or less.
Of the total cohort, 2081 (26%) failed the initial screen and were offered fur
ther evaluation. Of these individuals, only 33% (n = 681) agreed to a comprehensive evaluation. Of this group, 95% were diagnosed as having cognitive impairment, including 77% (n = 521) with full-blown dementia.
Of 345 patients with complete data thus far, mean total healthcare cost in the year before diagnosis (minus the $800 cost of the evaluation) was $13,378. In the year after diagnosis, it decreased to $11,636 for a mean difference of $1741.
"Even after subtracting the cost of the workup and evaluation,
we were able to save more than $1700 per patient on average. This is very important because I don't think we were convinced that making an early diagnosis of dementia would save money in the short-term. Most of us believe it will save money in the long-term, through better management of late stage dementia. The rate of cognitive impairment was pretty high, and this translates into potential cost savings of billions of dollars," said Dr. McCarten.
However, he added, quality of care, and not cost savings, is the DDP's primary goal.